Maid Services
Planning a big party but don't want to deal with the cleanup? Need to have your teenager's bedroom cleaned from top to bottom? Want a one-time house cleaning service to help pare down this week's never-ending to-do list? Then you've come to the right place. Champion Cleaning Contractors, Inc. is pleased to offer one-time or as-needed cleanings on top of our routine housekeeping services. Just one of the many ways we can customize our house cleaning services to suit your specific needs, our one-time maid service cleanings can help out with big jobs, when time is short, whenever! So if you find yourself in need of maid cleaning service in Westchester, contact Champion Cleaning Contractors, Inc. today.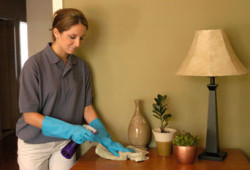 Maid service from Champion Cleaning Contractors, Inc. is perfect for a wide variety of occasions and situations. Think of us for:
Post-party cleanup
Pre-party cleanings
One-room cleanings
Moving cleaning services
One-time cleanings
We provide team cleaning, so our house cleaners can get areas large and small cleaned quickly and efficiently. And unlike maid services that only do a cursory job for one-time customers, Champion Cleaning Contractors, Inc. treats all of our clients with the same dedication to customer service and quality. Our housekeepers will scrub, scour, and straighten all designated areas of your property, including the kitchen and bathrooms if desired. When we're finished, our house cleaners will have your home shining and looking its best.
Taking care of homes throughout the White Plains area since 1982, Champion Cleaning Contractors, Inc. has an incredible 29 years of experience as professional housekeepers. We put that expertise and hands-on knowledge to work for every customer! At Champion Cleaning Contractors, Inc., we'll treat your home with respect, taking all necessary precautions to ensure nothing is damaged or marred as we go about the process of cleaning your space. And because we bring all of the necessary cleansers and tools with us when we arrive, your maid service is as convenient and hassle-free as possible.
Working to bring each and every one of our customers the most professional, affordable maid cleaning services possible, Champion Cleaning Contractors, Inc. is your answer for as-need cleanings in Westchester. From one room to cleaning the whole house once, our team is here to serve you. For more information or to get your free estimate, call now.
Housekeeper
Housekeepers
Maid Cleaning Service
House Cleaning Services
Maid Service Cleaning