Cleaning Services
Whether you're looking for a cleaning service company for one-time party cleanup or routine home or commercial cleaning services, Champion Cleaning Contractors, Inc. is ready to help. Specializing as a cleaning service business since 1985, we have what it takes to tackle messes large and small. From helping busy families stay on top of the regular dusting and vacuuming to serving offices, small hotels, and other businesses, our professional cleaning service is here to ensure your property is always neat, fresh, and able to look its best. So if you're in the market for a cleaning service in southern Westchester County, we're the experienced, qualified house cleaners for the job.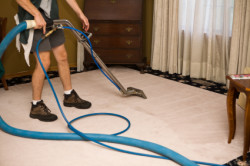 When it comes to cleaning companies, there are a lot of fly-by-night operations out there. Don't leave your home and belongings in the hands of untrained housekeepers or uninsured cleaners! At Champion Cleaning Contractors, Inc., we have 29 years of experience as qualified, skilled house cleaners. Our staff is fully trained in safe cleaning techniques, and we always treat your home and property with the utmost respect. And unlike many residential cleaners, we're fully licensed and insured for your protection. So when you're looking for a home cleaning service to provide one-time or recurring service, we're the professionals you can trust. Have questions? We'd love to help. Just pick up the phone or send us an e-mail!
Your full-service cleaners in southern Westchester County, our team is available for a wide variety of cleaning services. Just a few of our options include:
One-time special cleanings
Routine cleanings (offered at one to four week intervals)
Real estate cleaning
Moving cleaning
And more!
We provide all supplies and equipment for your convenience. Your professional cleaning services from Champion Cleaning Contractors, Inc. will be performed by one of our teams of trained, qualified housekeepers: By working together, we can make certain the job is both efficient and effective.
At Champion Cleaning Contractors, Inc., we work to make certain you get the best quality home cleaning services at the best prices. From our nearly 30 years of experience to our reputation for excellence as office and house cleaners, you can rest assured that we'll get the job done completely and correctly the first time.
Serving both residential and commercial customers, Champion Cleaning Contractors, Inc. provides professional cleaning services for homes, apartment buildings, bed & breakfasts, and small hotels. From home cleaning services to commercial cleaning services, our team has you covered! Give us a call or write us a quick e-mail to learn more today.
Home Cleaning
Office Cleaning
Cleaning Lady
Maid Service
House Cleaning
Commercial Cleaning
Cleaning Companies
House Maid
Janitorial Services